I was eating a baked onion the other day, a simple and delicious meal, quickly prepared and yes, cheap, especially if you have a small table top, or slow cooker to bake them in. Looking down at my plate I suddenly thought about the journey it had taken to get there.
For these were not any old onions, oh no…
They were the onions of many years of connections, friendships, shared interests and human endeavour.
It began many years ago, when a family moved into the house next door and our youngest son, Alex, made friends with the daughter, India. India had another friend, Jenny, who then became a mutual friend of them both and incidental to this, but nonetheless important, Alex also, some years later met Jenny's sister, Viv in an art class. They too got on very well. He gave her an ancient boat anchor, rescued from a beach in Wales by Alex's Dad, presumably for just such a moment as this, and Viv added it to her A level Art 'Exploration of Rust'… and on we go, down the years until Alex and Jenny end up sharing the same allotment a hundred miles from home, where yet more friendships blossom.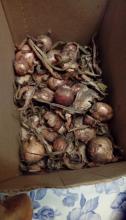 By the time we visit, Alex already has his planting scheme in place and so the onion sets the man on the next plot offers him, travel home with us to be planted in Cumbrian soil…
The moral of this story, for me at least, is that seeds are not only planted in the ground, but in the mind and the heart, in the friendships we make and the care that we take, in the grasping of the nettle and the sharing of the fruit, for there are riches indeed, to be garnered when we work together rather than apart.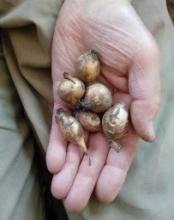 Baked onions:
2 whole onions peeled
6 – 8 tblsp oil
1" fresh chopped ginger
1 garlic clove (optional)
½ tsp chilli flakes or ¼ chilli powder
4 tblsp tomato puree/ketchup
Good dash soy sauce
Salt to taste
Method
Place onions in boiling water and simmer for five minutes or until just beginning to soften.
Mix all other ingredients in a blender to make marinade/sauce.
Remove onions from water and put in an ovenproof dish, pour over piquant mix and cover with lid.
Cook in medium oven for approx. 45 – 60 mins – baste once or twice.
Serve with fresh chopped parsley and rye bread, spread with a light tahini or whatever else takes your fancy. Make a toast to chance meetings and friendships, fleeting and lifelong.