It's that time of year again, when the apples and garden produce start rolling in and we get caught midway between stress - will I cope with the mounds of apples my OH is piling on the table almost daily - and satisfaction… because there is nothing nicer than preserving excess food for the winter months or to give as gifts to friends and relations, or, if you have as much produce as I do, the odd delivery driver and unexpected caller who you want to thank for their service.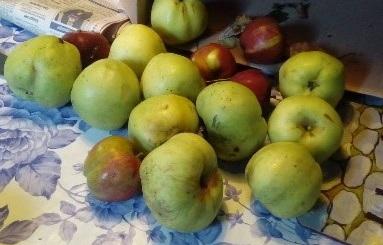 The following recipe that was given to me by one such person has become a favourite in our house and gives me great pleasure every time I make it, thinking about the benefits there are to be garnered from sharing our riches rather than hoarding them to ourselves. I hope you enjoy it as much as we do.
With especial thanks to Juma who delivered a parcel to our house at 10pm one night last year, in a howling gale and lashings of rain; who knocked on our door, who, when I opened it, smiled appreciatively at the aroma of chutney drifting from my kitchen… nice he said it reminds me of my Grandmother's house…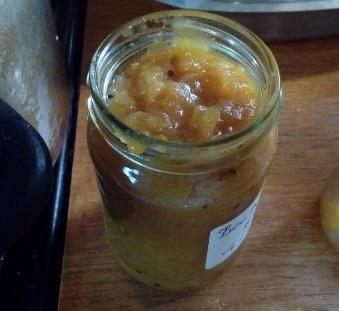 Juma's Grandmother's Relish meets my Grandmothers Chutney = Perfect Blend!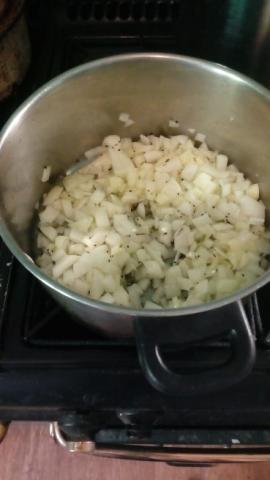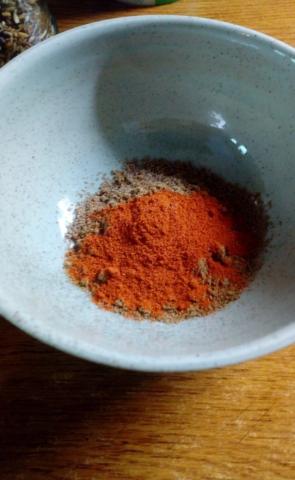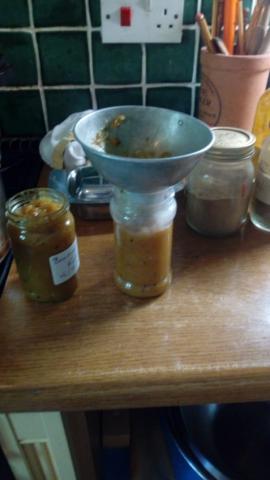 Ingredients List:
1 lb apples peeled, cored and chopped.
1lb courgette diced
1lb onions diced
A little oil
Spices: ½ tsp turmeric, 1tsp cumin, 1tsp coriander, ½ tsp chilli powder.
1 tsp salt
½ tsp black pepper
½ pt cider vinegar
12oz sugar white or demerara both work well.
Method:
Sweat onion in oil until transparent.
Add spices and stir for about 30 seconds on low heat – if it sticks add a couple of tablespoons of water.
Add all chopped fruit and veg, stir to cover with spiced oil.
Add vinegar and simmer gently until soft.
Add sugar and stir until dissolved – test by knocking a wooden spoon on the bottom of the pan, if it sounds 'hollow' and doesn't feel gritty it's good to go.
Turn up heat and bring to boil, once boiling turn down to lively simmer and leave lid off to reduce the relish to a thick consistency – I don't like mine too thick as it can tend to dry out in jars but it's up to you really as nothing spoils by altering this part.
It's good at this point to put a little aside to cool and taste – this is when you can adjust seasoning etc to personal taste.
Leave the whole to cool for five minutes, bottle in clean jam jars and place lid on top immediately.
And finally another thank-you to Sheila, 92 years of age, a lifelong friend of my Mother and me and my children, who faithfully chopped all the apples on a recent visit to our house and who has over the years shared recipes, cake and laughter with many.