Remember these?
Yes, those shoes that I thought were the ultimate in recycling. The ones I hadn't noticed were odd until several weeks after my husband had started wearing them… and only then because he drew attention to said item. Well, it seems I was wrong. Turns out they had much further to go…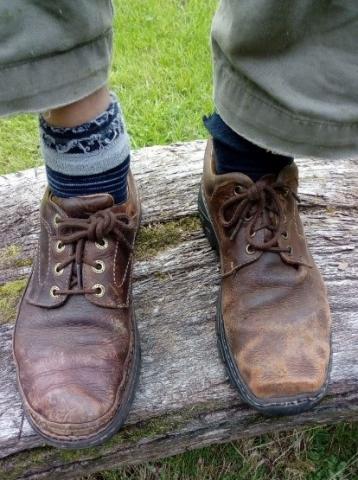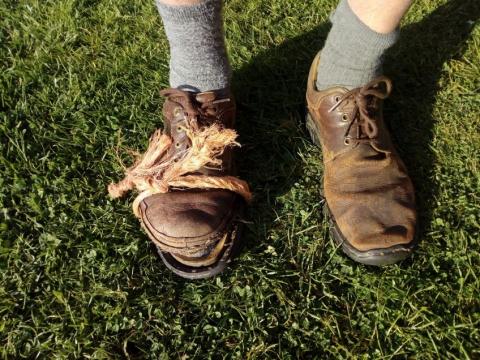 Behold their new incarnation.
I'm not sure what is the most shocking here. The fact that yet again I had to have them drawn to my attention – apparently, he'd been wearing them since the beginning of our holiday, four days previously, as a kind of beachcombing attire – no longer was he concerned about the leather being spoiled by salt water! Or the idea that they, in his opinion, were rather stylish and he was attached to them. I kid you not!
Whatever it begged the following questions – is this upcycling or down? Where does one start and where does one finish? Should sentiment trump practicality? Does it matter, what one or the other of us think… because yes, he did wear them into the local town and yes, while waiting for me outside the local Coop, was advised by a passing wit that should he ever decide to part with his footwear his dog would appreciate a good chew.
If you can't beat them…
Anyway, it all got me thinking about a jacket I'd only recently and after much deliberation (it too having considerable sentimental value) reluctantly consigned to the dustbin. After all, if he could walk round with his shoes tied up with string, I was sure my twenty year old jacket could cope with my, not exactly professional, sewing skills.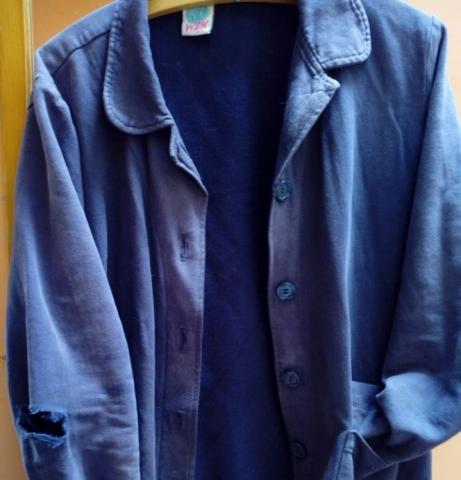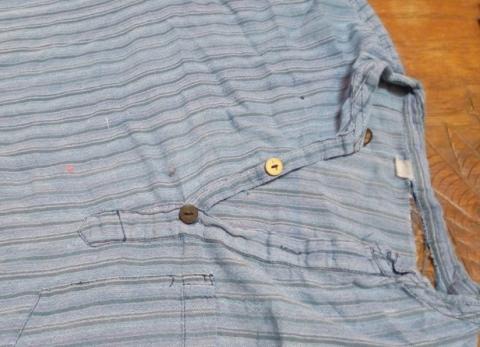 Desperately faded now, it has a large hole in the left arm and a button missing.
But it has seen me through thick and thin. An award ceremony in Leeds. A wind whipped storm across the channel in a small boat with no radar or life jacket!
Plus, my Mum bought it me on a day out together, where she also gave her own coat to a homeless woman sitting on the street.
So, could I somehow incorporate this shirt into it? Another faded and many would argue past its best item. It remains to be seen, I'll try my best and let you know next time.
But one thing's for sure in my mind now I think about it, beauty is in the eye of the beholder, let no person tell you differently. My husband doesn't and as he says, if you manage to make someone else smile in a day it's not been a bad one.