Who amongst us hasn't at some time or other been forced to become creative in a time of need? Re-using and re-purposing all kinds of things. Camping trips especially seem to lend themselves to such scenarios. Would be flying tents held down with piles of stone collected from the beach - plastic bags (soon to be a thing of the past and another problem to be solved) worn over leaky wellingtons - one pot meals that you'd never consider at home but find delicious in the great outdoors. On one famous occasion, one of our sons, a keen cook, outdid himself, presenting us with a banoffee pie he'd made in the, I washed it first, dog's bowl! I'm not sure what this says other than need is a subjective thing.
Recently and closer to home though I found myself with a shortage of wool, having only odds and ends to hand, while at the same time having a sudden abundance of babies - our first granddaughter, a great niece and a great nephew all managing to arrive more or less in the same month for us to welcome with further test levels of ingenuity.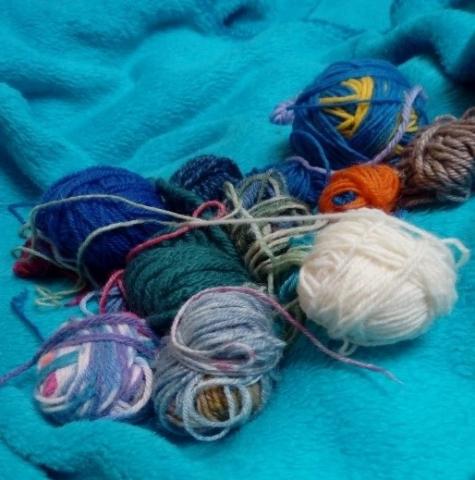 Our local knitting shop now closed it was definitely one of those times to scratch my head over the store of things that - might come in handy one day - were surely too good to throw out - and can't imagine what this might be used for but you never know - items that I keep in a - handy box - in my bedroom.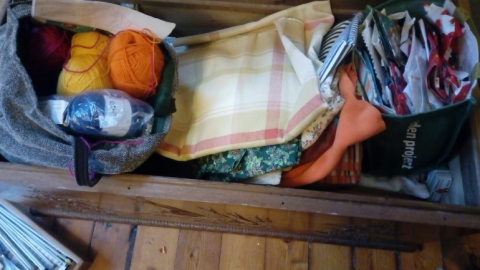 Yet lo and behold I surprised even myself!
This, bits and pieces cardigan looked better than the original I knitted in lemon and white some years ago.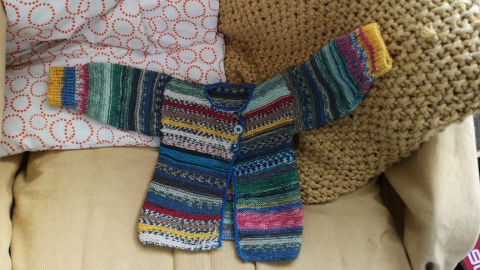 And these bootees which take very little wool (approx. 30g) are quick to knit and perfect for when you're taken by surprise.
Any knitting pattern can be made up of oddments, provided you have enough of them, the more the merrier in my opinion as with the Bootee Pattern too, which is included below: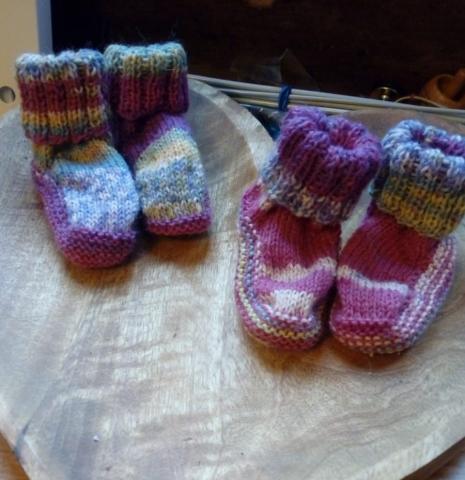 Booties
Use 2.75mm needles for newborn or 3mm needles for 3 – 6 months. I use 4ply wool but you can use double knit - go up one size needle as well - perfect for a slightly older little.
Cast on 42 stitches and work K2, P2 for 27 rows. Work a further row in rib and decrease 1 stitch along row (41 sts).
Work 6 rows in stocking stitch.
Divide for top of foot as follows: K28 sts, turn, purl 15 sts, turn. Continue working on these 15 sts only and work 22 rows in stocking stitch. Break off yarn and with right side facing rejoin and pick up 11 sts along the side of the foot, knit the 15 sts across the toe, pick up and knit 11 sts along second side of foot as well as 13 sts remaining.
Continue the rest of the bootee in garter st. by working a further 13 rows before shaping the sole as follows:
K1, *K2tog, K25,K2tog* K3, repeat from * to * once more K1
K26, K2tog, K3, K2tog, K26
K1, *K2tog, K22, K2tog*, K3, repeat from * to * once more, K1
K23, K2tog, K3, K2tog, K23
K1, *K2tog, K19, K2tog*, K3, repeat from * to * once more K1
Cast off.
To make up sew up side and sole seam.
Good luck!