Pam continues her blog about Freegle, recycling, repair and that sort of thing.
My Dad, bless him, was an Up-cycler Extraordinaire. Not that we knew this at the time of course, back then upcycling wasn't even a word. Back then it was more a matter of necessity. The throw away world was yet to come.
Being an engineer as well as an artist gave my dad a bit of an edge though. While every house had its multi-purpose button box (jewellery, counting aids, gambling chips for family friendly card games) he transformed things. In his hands a wonky kitchen table could become a child's writing desk, a set of shelves, a storage box, a go cart! He was an Aladdin's lamp of a man, people came to him with the broken, the old, the worn out and he gave them a wish… do you think you could… any chance of… they'd ask and he'd reply, leave it with me, I'll see what I can do.
Whittled from a small block of wood I presented him at age eight – can you make me an antelope please.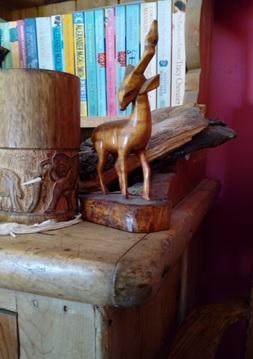 Then came the dark ages – when re-using things was, at best, seen as quaint. At worst, miserly and miserable. There was even a television programme made about it. Look at this lot, what lengths they go to, to save a penny. Hoarders out. Feng shui in. Feng shui. Interpreted by many to mean, throw everything away except your candles and bathtub, it alone surely had to be responsible for the country's landfill becoming significantly larger as garages, attics and cellars were emptied to make space for, well, higher things. Or at least a flat pack from Ikea.
Charity shops – not unknown at this time, were a rarity, the pariah of any respectable high street. They lowered the tone; were seen as unfair competition. Yet despite all this frowning and tutting, or maybe because of it, the humble charity shop is now a major player in the great upcycle movement. They smartened themselves up, introduced the idea of something pre-loved, one of the best marketing slogans of modern times in my view and brought in new goods - often made by marginalised peoples as a way to help provide them a respectful living. Nor are they stopping there. A Radio 4 programme I heard recently reported on how some charity shops have started to take in items that would previously have been rejected. A three-legged coffee table was cited. Restored by a specialist volunteer it was sold for £89. 'We are not becoming exclusive, we still have the £5 t-shirt, but we're widening our net.' They explained. 'The expensive items also help subsidise other work, supporting food banks, keeping the clothing affordable and let's not forget, protects our valuable earth resources from being squandered.'
Brilliant!
Is the re-cycling, make do and mend culture now unstoppable – I like to think so. One of my sons works alongside young people, designing and constructing structures in public spaces made from as much recycled material as they can muster, in this instance it's mainly the telegraph poles.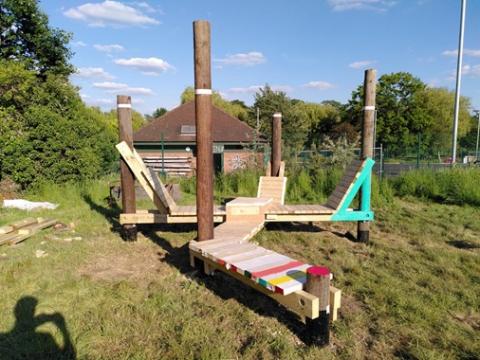 Meanwhile back home, another son has been making use of some old skirting board to make a tool box.
While a third is hand stitching a teddy bear from a remnant for his first (newly arrived) niece…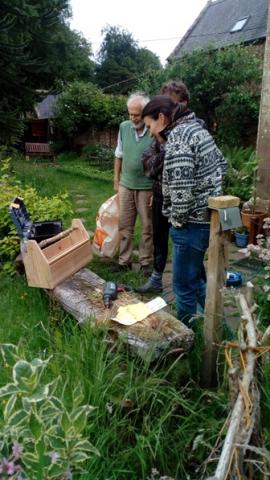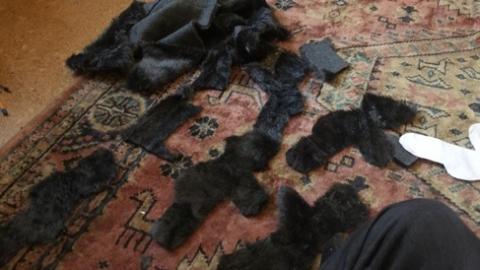 There is nothing left for me to say is there… except their Grandad would be proud.
Useful website: Reuse Organisations in Cumbria - a list of organisations throughout Cumbria that can take unwanted furniture.
Pam P.