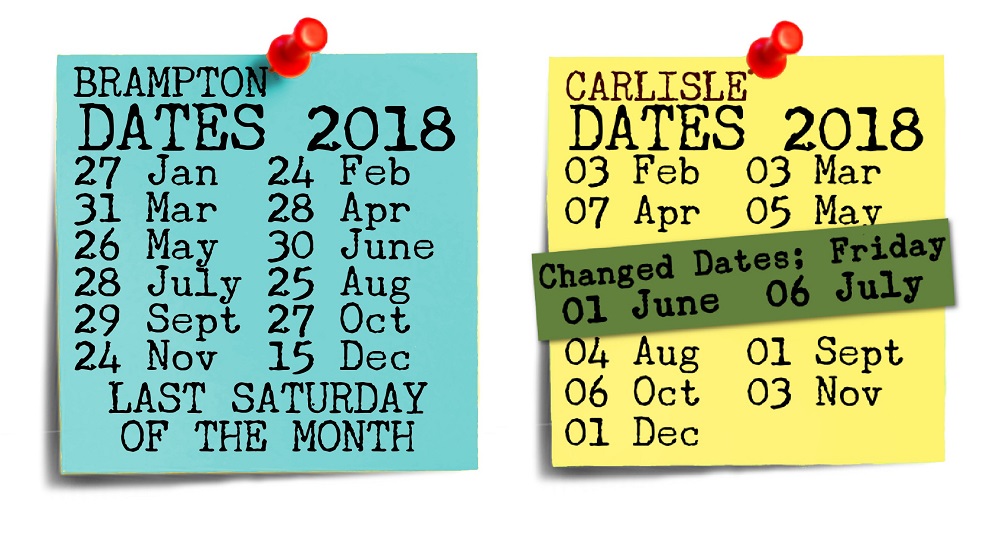 Farmers markets are great places to buy food grown or made locally.  Carlisle Farmers Market is on the first Saturday of the month.
Brampton Farmers Market is usually on the last Saturday of the month.
With lots in the news recently about reducing plastic waste many of us will have made resolutions to reduce our environmental impact. Did you know that your local farmers' market can help with that?
Bring your own bag or basket, who needs wrappers for fruit and veg, bread and other items?
Many stall holders will take their jars and egg boxes back, just ask!
By buying local you are reducing food miles, which means less fuel used and helping the local economy.
The Give and Take stall is a great opportunity for a clear out and the chance to find something pre-loved.
Carlisle Farmers Market in 2018
All markets are from 9am to 3pm at Greenmarket in Carlisle.
3 February 2018
3 March 2018
7 April 2018
5 May 2018
1 June 2018 FRIDAY
6 July 2018 FRIDAY
4 August 2018
1 September 2018
6 October 2018
3 November 2018
1 December 2018
Barmpton Farmers Market in 2018
All markets are from 9am to 1:30pm at the Moot hall, Brampton CA8 1RW
27 January 2018
24 February 2018
31 March 2018
28 April 2018
26 May 2018
30 June 2018
28 July 2018
25 August 2018
29 September 2018
27 October 2018
24 November 2018
15 December 2018