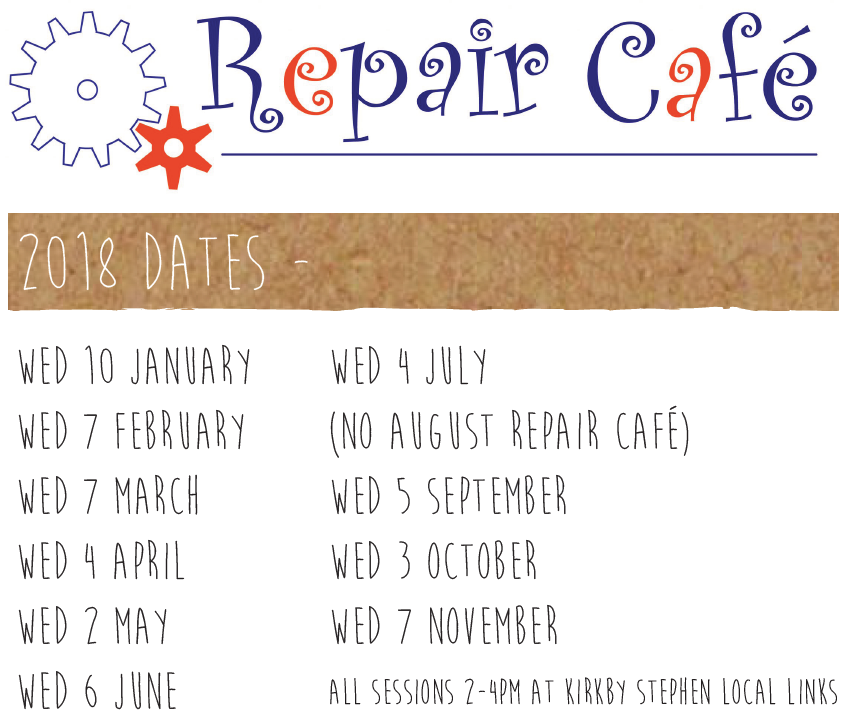 All sessions 2-4pm at Kirkby Stephen Local Links
Wed 10 January
Wed 7 February
Wed 7 March
Wed 4 April
Wed 2 May
Wed 6 June
Wed 4 July
(No August Repair Cafe)
Wed 5 September
Wed 3 October
Wed 7 November
Kirkby Stephen Repair Café helps to reduce waste sent to landfill, saving money and resources by using expert volunteers to fix everyday household items.
We have a friendly team of DIY and sewing experts ready to take on your repairs. Bring along any clean clothes, electricals, jewellery, toys, small items of furniture etc … that are in need of attention and we will do what we can to help!
And even if you don't need anything repairing then you can come along and enjoy a hot drink and a delicious cake made by the fabulous team at Augill Castle!
All repairs are free but donations to keep the repair café running are welcome.
Kirkby Stephen Repair Café is run by Kirkby Stephen Community Arts and Kirkby Stephen and Upper Eden Good Neighbours Scheme, with support from Kirkby Stephen Town Council. To find out more about Kirkby Stephen & Upper Eden Good Neighbours, please visit www.kirkby-stephen.com
To find out more about KSCA please visit www.kirkbystephencommunityarts.co.uk or contact Kate Lynch 017683 71885 kate@kirkbystephencommunityarts.co.uk