The lovely weather brought out a great community spirit on Saturday at the Old Fire Station in Penrith where Freegle and PACT (Penrith Action for Community Transition) laid on an event where where visitors could give away unwanted items to each other and swap seeds, plants, trees and tools.
The day got off to a brisk start with Luka and family picking up a free trampoline before the event had officially opened. Loads more Freegle items, big and small, came and went: everything from Sean the sheep to a child's bike to a sofa – we weren't taking furniture but someone wanted it so it went!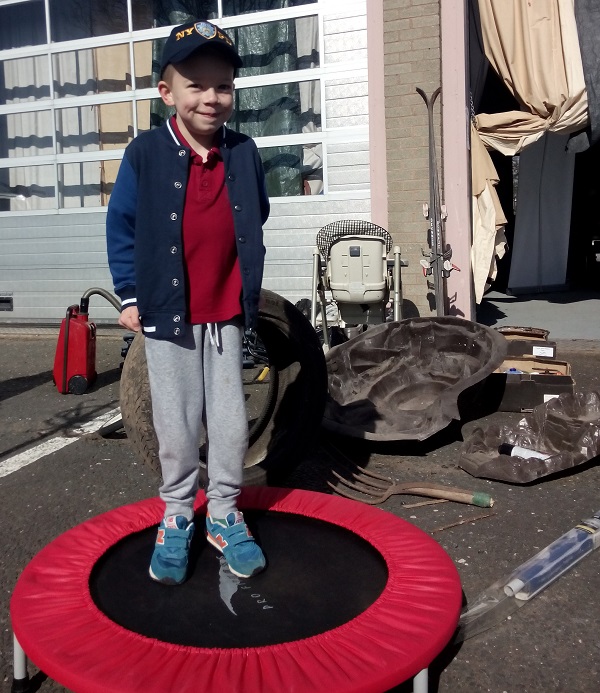 Lots of people must have got their gardening year off to a good start, with many seeds, plants and trees passed on. Kathrynn got her peas planted up later that day. Some 40 damson saplings were picked up as well to several people, so hopefully they'll be bearing fruit in a few years time to make damson jam, chutney or gin.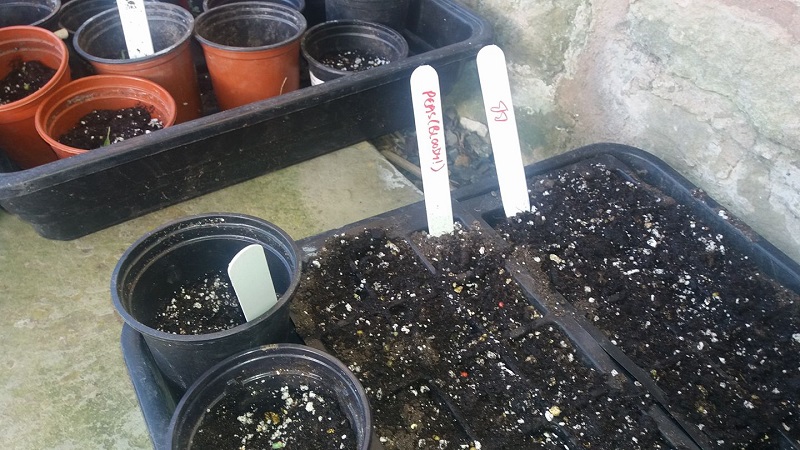 There was loads of information about the community gardening projects in Penrith along with a display from the Carleton Farm shop which is now being run by VistaVeg – who provided a veg bag which was raffled in aid of PACT funds. Cumbria Action for Sustainability (CAfS) were also there, giving away an energy monitor to raise awareness of Earth Hour later that evening. Eden Hospice at Home were fundraising by selling raffle tickets for a quilt. Last but not least, Cumbria County Council were demonstrating their food waste digesters and composters, which are available at a much reduced price to Eden District residents. All accompanied by tea, coffee and scrummy cakes.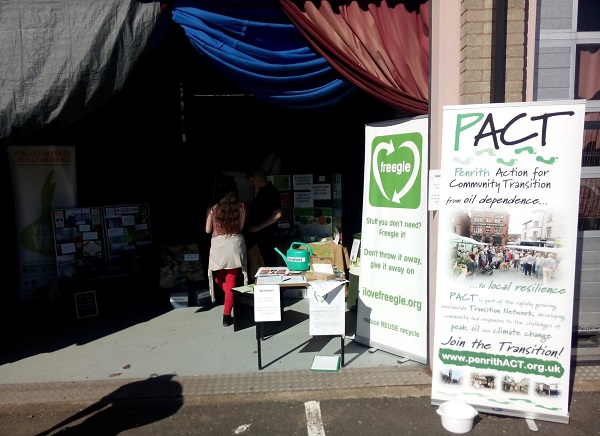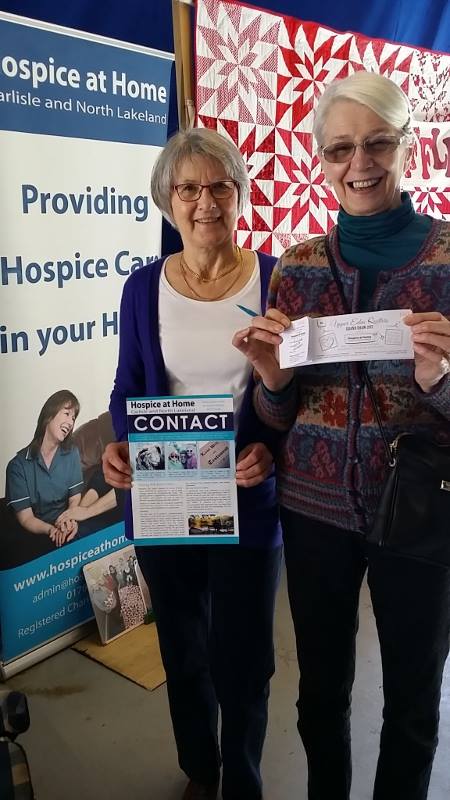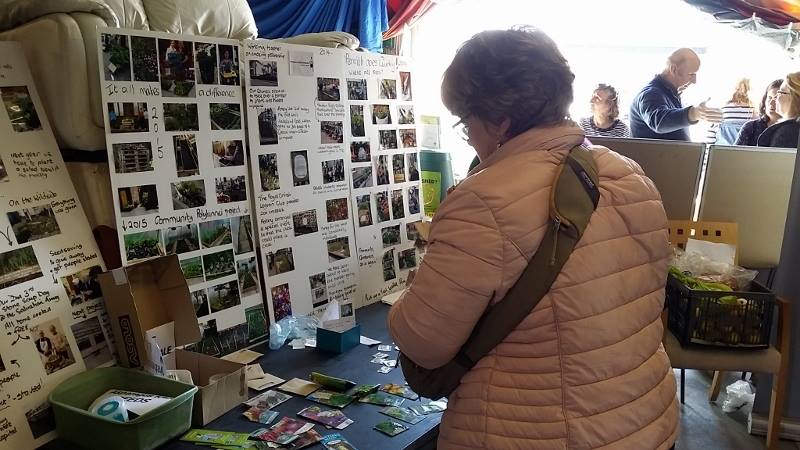 There were four generations of one family at the event. Kids Toby and Anna Proctor were with their mum Clare Martindale. Her mum, Carol Martindale, picked up some asparagus kale seeds, while her mum, Anne Martindale, got a goji tree! She is a dedicated Freegler having been to two Shap Give and Takes and the event in Kirkby Stephen.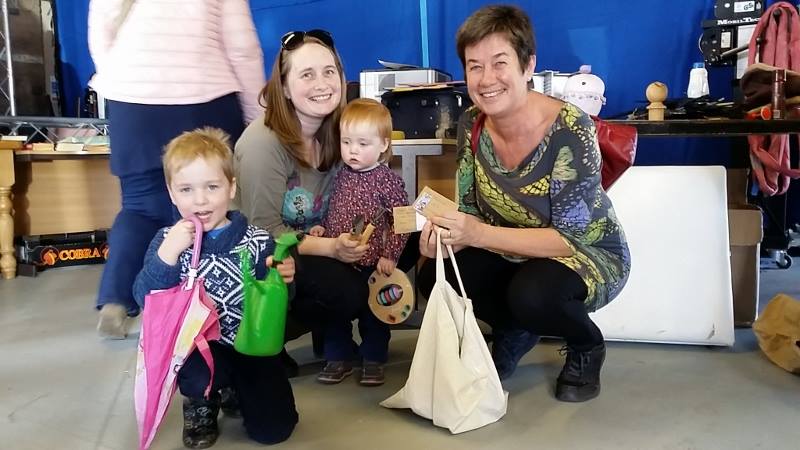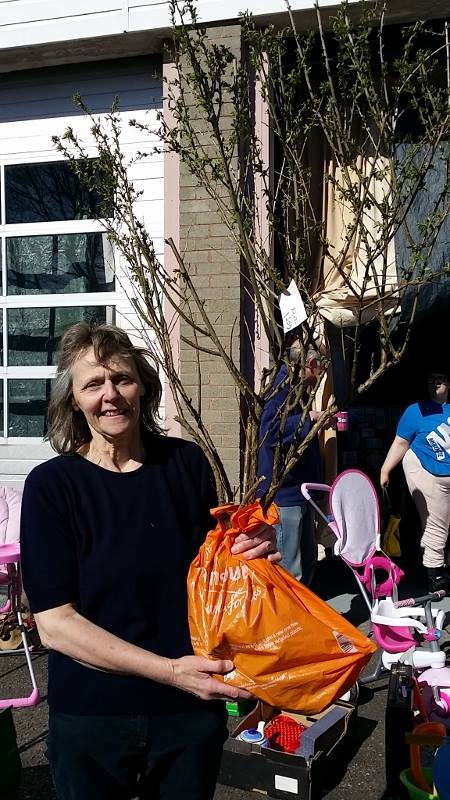 It was good to chat to people and share our care for the environment. One group of Freeglers said that they regularly use the Freegle shelf in the Devonshire Arcade in Penrith. They dropped off children's kit, including a pop-up goal (for football), a children's trike and some books. Various people found out about the event on Facebook and through publicity on Cumbria Crack.
None of this would have been possible without the help of a lot of helpers: Jaki, Nigel, Malcolm, Carol, Alison, Sheila, Frankie, Sally, Rosemary, Judith, Frances, Barbara and Kylie. Thanks also to Eden Arts for hosting us - and for funding from Cumbria County Council through the Cumbria Waste Prevention Fund. A few leftover items went to Something in Mind in Penrith and Changing Rooms charity shop in Brough. Eden Arts are holding a first Repair Cafe on 22nd April from 10am to 1pm – looking forward to that!