The Freegle Give and Take at Shap went really well on Saturday, with around 120 people visiting and probably hundreds of free items received and picked up!  We've been at The Old Courthouse several times before and the volunteers that run this community owned venue are brilliant at getting the place ready, helping out on the day and clearing up afterwards – many thanks.  Thanks also to Judith from Recycle for Cumbria for helping and tweeting on the day.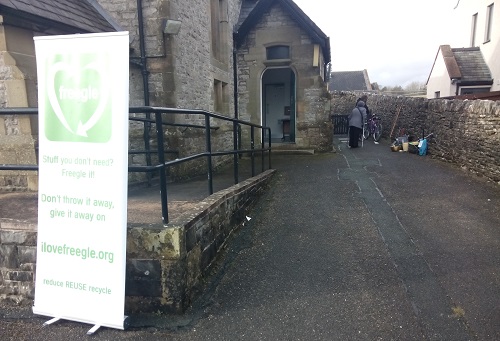 Some things didn't even make it in the door. During the day I noted that all these items were taken: sack barrow, DIY brackets, toolbox, blinds, brush, bike pump, three bins, washing up rack, electric fan, microwave, TV, shredder, picnic table, hand drills, airer, stool, slow cooker, duvet, pint glass, books, clothes, tools, jigsaws, more glasses, toys, magazines, santa hat, primus, Trangia, camp pans, seed potatoes, wind breaks, curtains, camp chairs, coffee maker, patio chairs, lamps, fish kettle, book stand, hi-fi, vacuum cleaner, greenhouse heater, clothes airer, kettle, video recorder, kitchen chairs, picture, teapot, rugs, another hoover, garden books, another teapot and plates.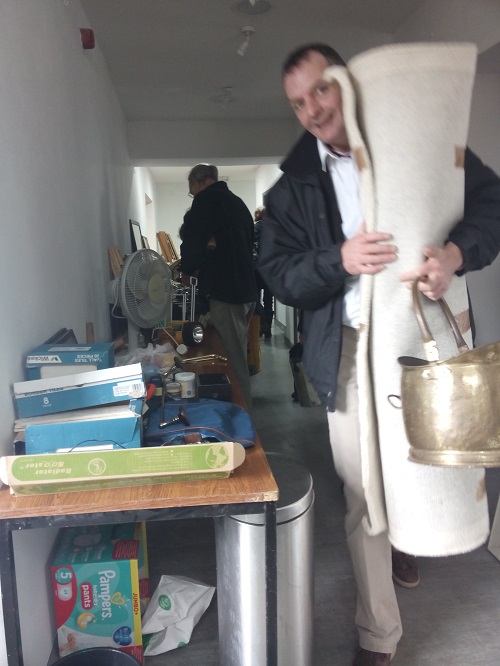 I picked up up some useful stuff for the garden and around the house: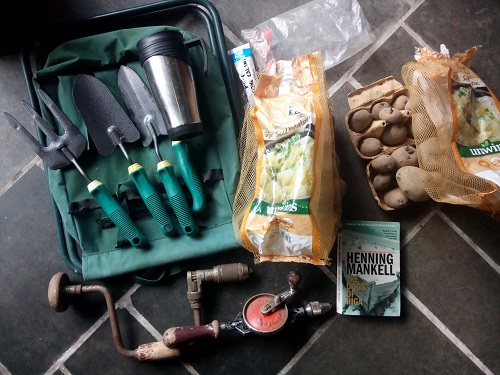 Freegle moderator Elaine couldn't be there as she's in hospital. However she has recently made a plaque, collection tin and mugs for the local group – on display in the entrance along with leaflets and Freegle business cards – and free asparagus kale seeds.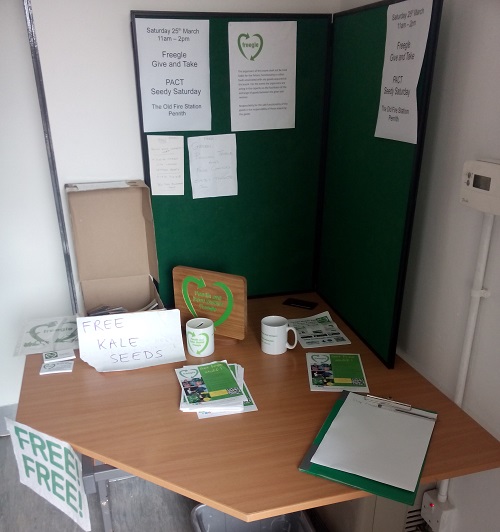 Everything was free but some people kindly left donations to The Old Courthouse and Freegle.  There were some left overs which are on their way to the Something in Mind charity shop in Penrith to sell.
Our next Give and Taken event is in Penrith at the Old Fire Station on 25th March 2017 from 11am to 2pm – alongside PACT who are running Seedy Saturday to help people get their gardening year started and promote community gardening projects.