Tell us your best tip for reusing or recycling things and you could win a free book of Waste Not Want Not ideas, kindly donated by Recycle for Cumbria - as described in Penrith Today.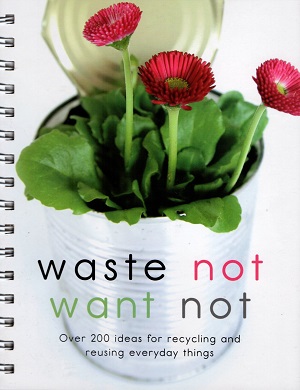 The book has over 200 ideas split into these sections:
Why "Waste Not Want Not"?
Paper and Card
Plastics
Ceramics, Glass and Tin
Clothes and Textiles
Leftovers
Energy and Water
Reuse Tips
Index
Conversion chart
The ideas are all pretty simple - such as creating gift tags by reusing birthday or christmas cards - to making a draught excluder by cutting off an old trouser leg and stuffing it with other old material.
Freegle is a great source of materials for any project.  I've given away an old bicycle on Freegle which I thought was beyond repair. However the person who took it was making an exercise machine so was able to use some of the bike parts.
Please tell us your reuse or upcycling ideas on penrithfreeglemods at gmail.com or phone Chris on 01931713240. The group volunteers will go through the ideas and send the book out to the one we think is the best!