Freegle joined in the fun at Alston Gala last Saturday running a stall to help people hand on unwanted items to others and demonstrate upcycling in practice. At least one hundred visitors dropped by, with many picking up a freebie from donated items, others took away a free sturdy carrier bag and learnt how to make decorations.
Penrith and Eden District Freegle is an online group with over 5000 users listing free items they want to give away or get. It's part of the national Freegle website, www.ilovefreegle.org.
"Right now on our local Freegle, people are offering everything from a printer and scanner to a pine wardrobe, a double bed and mattress, while someone is wanting snow in summer,which is a plant!" said Freegle organiser Chris Cant.
The local Freegle group has grown substantially over the past few years, with events like the Alston Gala helping to spread the word.
"We spoke to quite a few people on Saturday who hadn't come across Freegle before, so hopefully we've inspired them to give it a try," Chris said.
Passers-by were intrigued by the shopping bags that volunteer Judith-Ann Wardlaw from Garrigill was making from biomass wood pellet bags, upcycling them into sturdy plastic carriers by adding handle loops and cutting holes to make handles.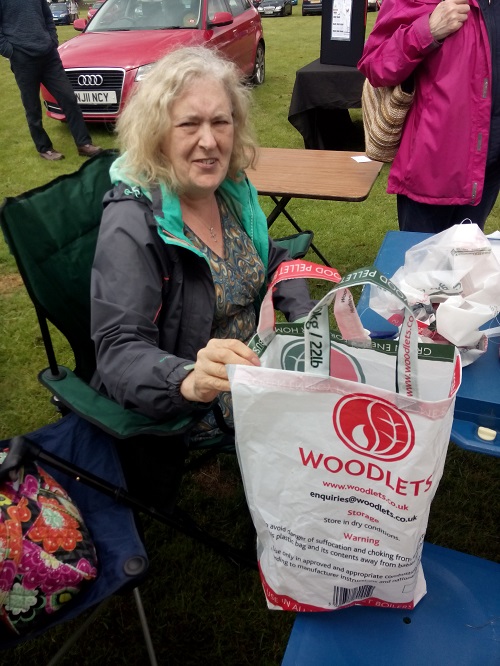 Young visitors in particular watched enjoyed another volunteer's demonstration of making party or Christmas decorations using items obtained on Freegle. She dunked string and tape in PVA glue and wound it round and round a small balloon. When it dries, the balloon is popped leaving a delightful open ball to hang up as a decoration.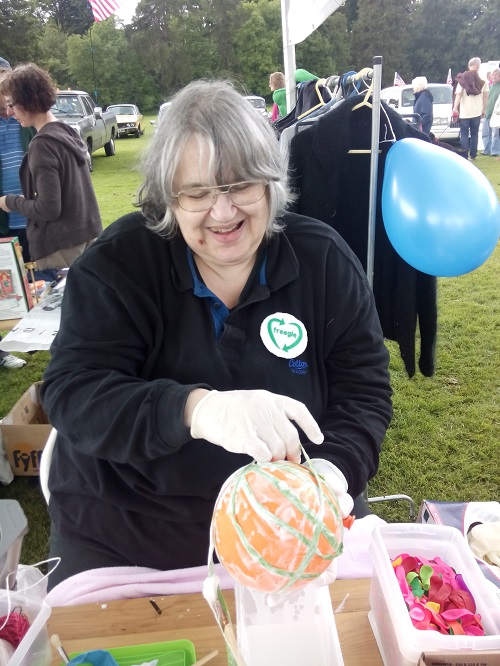 "We had some balloons to give away to kids as well donated loom band kits to help them get creative at home," Chris said. "We found new homes for our usual random mix of donated items, from an ink pen and Nintendo kit to clothes, books and bric-a-brac".
Some left-over clothes were taken to support the Carlisle Refugee Action Group.
"We're grateful to the Alston Gala organisers for letting us take part and to the Cumbria Waste Prevention Fund, which is helping us run a series of events," Chris said. "In a good example of resource sharing, we'd also like to thank Cumbria County Council's Waste Prevention Team, who loaned us their gazebo and tables. Even the weather was in fact pretty kind on us with the main show time dry, letting us enjoy the parade, floats, entertainment, motor display and stalls."
There's another opportunity to find out more about Freegle at Penrith Show on 23 July, where the team will be with Penrith Action for Community Transition (PACT) at stand RS93.