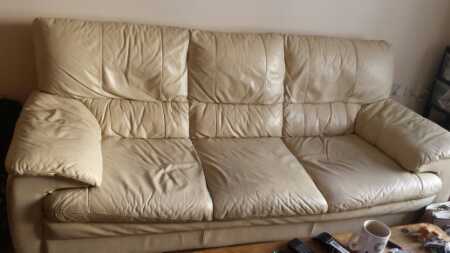 I've selected this sofa in Penrith as offer of the week. Click "Freegle Now" below if you live in the area and would like to ask for it. You'll almost certainly need some transport to move it.
Below is a list of active OFFER and WANTED posts from the last week on the Penrith and Eden District Freegle group. Other items will have come and gone!
To take part: Freegle now!
Or check out the latest list
Domestic appliances
OFFER
Penrith

Fridge

4 Jun

Penrith

Fridge/Freezer

4 Jun

appleby

electric heaters

1 Jun

Greystoke

New lava rocks for gas BBQs

29 May

Appleby

Gas hob

26 May

appleby

electric heaters

25 May

Hutton John

Toaster and electric kettle

25 May

Appleby

Gas hob

19 May

Greenholme

Od Duvets & Pillows for Dog bedding?

18 May

Appleby

Dyson vacuum cleaner

15 May

Appleby

Gas hob

11 May

Milburn

Packing boxes, flattened

8 May

Nenthead, near Alston

HJA 6852 Combi Fridge Freezer

6 May

Skelton

11 Complete Sets of Window Fittings

2 May

Threlkeld

Electric Hair rollers

1 Apr

tirril

dyson DC07

29 Mar

Needs rep (Penrith

Gardena Pump Sprayer, 5 litre

28 Mar

Penrith

Plastic inserts and folders

25 Mar

near Alston

Dyson cleaner

24 Mar

Dacre

Fax Machine - working

21 Mar

Dufton appleby

guinea pig cage - for indoors

20 Mar

Penrith

Aqueous Cream

11 Mar

Kirkby Thore

Fridge Freezer

7 Mar

Penruddock

DYSON UPRIGHT ROOT CYCLONE CARPET CLEANE

7 Mar
WANTED
Penrith

Old small caravan

4 Jun

Penrith

Ice-cream maker

2 Jun

Shap

Piece of of corrugated roofing

2 Jun

Kirkby Stephen

Gas Cooker

2 Jun

Calthwaite

Vintage Typewriter for art/craft work

2 Jun

Penrith

Hoover

31 May

Kirkby Stephen

Electric oven + hob

31 May

Lazonby

Water barrels for raft building

27 May

Great Strickland

Cylinder type vacuum cleaner

26 May

Penrith

Hoover

25 May

Garrigill

Hen house or other suitable home for hen

23 May

Penrith

Fridge,freezer,washer

23 May

Penrith

Fridge,freezer,washer

23 May

Penrith

Electric cooker

20 May

Kirkoswold (Kirkoswold.

Large ceramic outdoor plant containers.

19 May

Lazonby

old t shirts for rag rug making

17 May

Askham

pallets, rockery stone or paving

6 May

Penrith

VCR machine

30 Apr

Clifton

Beer fridge

24 Apr

Lazonby

old t shirts for rag rug making

18 Apr

Penrith/Ullswater

Small/medium-sized dog crate

6 Apr

Kirkby Stephen

Fridge/freezer

5 Apr

Penrith

Bread maker paddle

28 Mar

Shap

Under counter fridge

24 Mar

Kirkby Thore

fruit wood logs and drain pipes for an outdoor guinea pig run

20 Mar

Appleby

Working sewing machine

18 Mar

maryport

any household items or furniture

9 Mar

Penrith

Tumble Dryer

7 Mar
Pet-related
OFFER
Penrith

hamster cage

3 Jun

Penrith

Fish tank

30 May

Kirkby Stephen

office supplies and equipment

22 May

Penrith

Hamster cage

21 May

Penrith

Indoor Rabbit/Guinea pig hutch

17 Apr

Appleby

Glass fish tank

27 Mar

Lazonby

hamster cage

25 Mar
WANTED
Penrith

indoor rabbit/guineapig cage

31 May

Pooley Bridge

Poultry ark or run

31 May

Hackthorpe

Rabbit run

16 May

Applrby

Rabbit hutch and run

8 May

Appleby

Chicken coop and run

5 May

Silloth

Rabbit hutch

25 Apr

Penrith

Chicken Coop for 3-4 hens

13 Apr

Keswick

horse clippers

3 Apr

Kirkby Stephen

Indoor rabbit cage

22 Mar

Penrith

Pet Cage 36"

13 Mar

Appleby

bird cage

9 Mar

Appleby

Rabbit hutch/equipment

8 Mar
Office & Home-office
OFFER
Brough

Computer Printer

2 Jun

Glassonby/Penrith

Battery charger for AA, C and D

31 May

Lazonby

Filing Cabinet

4 May

Greystoke

Small Jiffy Bags

3 May

Greystoke

Bubble wrap

1 May

Bampton

Dell printer

29 Apr

Kodak printer

24 Apr

Penrith

Large wooden box

22 Apr

Greystoke

Small Jiffy Bags

20 Apr

Penrith

Executive office chair

14 Apr

Greystoke

Small Jiffy Bags

3 Apr
WANTED
Penrith

Junk / Scrap Computers & Laptops

23 May

appleby

urgenr: Working printer

18 May

culgaith

Office Chair

16 May

Near Low Hesket

Windows XP computer

11 May

Calthwaitw

Vintage Typewriter

5 May

Appleby

Keyboard

3 May

appleby

computer desk

28 Apr

Penrith

Filing Cabinet

18 Apr

Eden

Computer case

29 Mar

Warcop

Display stands/artists easels

11 Mar
Miscellaneous
OFFER
Leadgate, Alston

Packing boxes

4 Jun

Penrith

polystyrene chips

26 May

CA10 1BA

Egg boxes

21 May

Penrith

polystyrene chips

19 May

skirwith

AC/DC adaptor

15 May

CA10 1BA

Egg boxes

14 May

Penrith

polystyrene chips

12 May

skirwith

AC/DC adaptor

8 May

CA10 1BA

Egg boxes

7 May

Brough

Kirkby Stephen grammar jumpers

2 May

skirwith

AC/DC adaptor

1 May

Greystoke

Card board boxes for removal

1 May

shap

Q7 car mats

30 Apr

Dockray

Heavy duty pine shipping crate

24 Apr

Castle Carrock

Wooden classroom tables

24 Apr

Castle Carrock

Wooden classroom tables

17 Apr

Threlkeld

Hair straihgteners

1 Apr

Shap

Yet more various

29 Mar

Shap

Yet more various

29 Mar

More

various

29 Mar

Shap

various

27 Mar

dufton appleby

disabled toilets

20 Mar
WANTED
Kirkby Stephen

Utility tent/small awning please

2 Jun

Newton Reigny

Packing boxes for house move

15 May

Penrith

Good quality books and bric-a-brac

14 May

appleby

large feathers

8 May

Penrith

Homebrew Equipment

2 May

Penrith

Weaving items?

29 Apr

Nr Ivegill

Old Handbag with Magnetic closing, Foam sheet

25 Apr

Penrith

Good quality books and bric-a-brac

16 Apr

Nr Ivegill

Sticky Stuff

4 Apr

Nr. Ivegill

Sweet Wrappings

4 Apr

Culgaith

Umbrellas

30 Mar

Penrith

WANTED: CORRECTION Good quality books an

20 Mar

Penrith

Good quality books and bric-a-brac

19 Mar

appleby

large feathers

11 Mar
Children & Baby
OFFER
Lazonby

childs drum kit

22 May

penrith cumbria

cot matteress

18 May

Orton

High Chair

1 May

Kirkby Thore

Girls bike

27 Apr

Kirkby Thore

Girls bike

20 Apr

Ca16 6hu

Girls Appollo bike

8 Apr

Penrith

washable nappies

4 Apr

Kirkby Stephen

Cotbed Mattress

25 Mar

Long Marton

Toy garage

21 Mar

Soulby, NR Kirkby St (Soulby, kirkby st

Wendy House

21 Mar
WANTED
CA7 3BN

girls bike

29 May

Penrith

Baby goods for grandparents house

25 May

Cliburn, Penrith

Toys suitable for a 4 year old grandson

22 May

Mungrisdale

Baby Gate

21 May

Carlisle

Fishing Kayak - and Surrounds

16 May

Penrith/Ullswater

Toddler stairgate

4 May

Cockermouth

primo viaggo ip carseat - older model

28 Apr

Penrith

High chaor

17 Apr

Stainton

CHILD'S SCOOTER

10 Apr

Penrith/Ullswater

Toddler stairgate

6 Apr

Clifton

ride on tractor

11 Mar
Clothing
OFFER
Stainton

Bag of boys clothes, Age 5

11 May

Brough

Teenage bras

2 May
WANTED
art

Old Jeans, material collecting

3 Jun

Appleby

football kitsfor african orphanage

31 May

art

Old Jeans, material collecting

5 May

appleby

football tops:africa orphanage

2 May

Penrith

Hunter wellies size 8

6 Apr

Penrith area

old fashioned wedding dress

23 Mar
DIY
OFFER
Great Strickland

plaster board

3 Jun

Great Strickland

Ladder shelves

3 Jun

culgaith

2 plain wallpaper & tub of green paint

1 Jun

Appleby

worktop

1 Jun

Penrith

Kitchen worktop

1 Jun

Cockermouth

Large Double Glazed Window with sill

30 May

Penruddock

Child's Metal Detector

29 May

CA11 8LR

Sandstone Roof Slates

22 May

Penrith

Radiators

20 May

Appleby-in-Westmorla

Internal doors

17 May

Cliburn

Breeze blocks

14 May

Penrith

Selection of wallpaper

11 May

Penrith

paving slabs and stone

9 May

Appleby

Bagged Hardcore

8 May

Cliburn

Breeze blocks

7 May

Penrith

six grey coloured paint tester pots

3 May

Penrith

Double Radiator

2 May

Appleby

Bagged Hardcore

1 May

Tray

shower

1 May

CA16 6XG

Bagged Hardcore

1 May

Penrith

Sink

1 May

shap

Double Radiator

30 Apr

Penrith

Kitchen sink, tap and some pipework

27 Apr

Appleby

Chain oil for a chainsaw

23 Apr

Penrith

Wood

18 Apr

Great Strickland

Plaster board

8 Apr

CA16 6XG

Bagged Hardcore

1 Apr
WANTED
Penrith

Tile grout

2 Jun

Carlisle

Solar panel

1 Jun

Kirkby Stephen

old wood/planks

30 May

Kirkoswald

Kitchen units/work top

30 May

Appleby

Cement mixer

29 May

Appleby

Scaffold board's

22 May

Penrith

Louvre Doors

21 May

Penrith

Paint

20 May

Penrith

roofing felt

20 May

Skelton

double glazed window units

15 May

Near Ivegill

Paint/Colourings

5 May

Greystoke/Penrith

Heat Gun

3 May

Appleby

Angle grinder

30 Apr

Penrith

White Matt Emulsion

28 Apr

Gamblesby

Temporary fencing for dividing garden up

24 Apr

Cumbria

Shelving or wood

24 Apr

Penrith

Decking materials

23 Apr

Penrith

White gloss

18 Apr

Skelton

double glazed window units

17 Apr

Penrith

Old Stainless Steel Kitchen Sink

13 Apr

Penrith

Push Mower

11 Apr

Penrith

Tool Box

11 Apr

Penrith area

small heating oil tank

28 Mar

Gamblesby

Temporary fencing for dividing garden up

27 Mar

Appleby

Angle grinder

26 Mar

Appleby

Scaffold board's

26 Mar

Penrith

Lino/lino tiles

26 Mar

Penrith

Decking materials

26 Mar

CA118DG (CA11 8DG

Scaffold planks

26 Mar

Penrith

plastic rubble bags

7 Mar
Furniture
OFFER
Penrith

Cream leather 3 seater sofa

4 Jun

Penrith

Three seater cream leather

4 Jun

dufton appleby

glass table top

1 Jun

Penrith

Brown velour Futon

1 Jun

Penrith

Sideboard

27 May

dufton appleby

glass table top

25 May

Appleby

Single bed

12 May

Shap

Older style pram

12 May

Penrith

Brown Leather recliners 2 and 3

11 May

Penrith

2 armchairs

6 May

Penrith

Brown Leather recliners 2 and 3

4 May

central penrith

2x armchairs

4 May

Penrith

interior door good condition

3 May

Penruddock

Double Mattress

3 May

shap

bulk head light covers

30 Apr

PENRITH

Single divan bed with wooden headboard

29 Apr

Penrith

Measurements of Wooden Box

28 Apr

Patterdale

Vi-Spring single divan bed base

24 Apr

Appleby

Double Bed with mattress

22 Apr

glenridding

3 seater leather settee

22 Apr

Glenridding

large 2 seater leather settee

21 Apr

Gamblesby

American Sized Single Bed & Mattress

20 Apr

Penrith

Ceramic tiles - light blue

19 Apr

Penrith

Fold down table

18 Apr

Penrith

Used king-size mattress

17 Apr

round table

4 Apr

Penrith

2-seat sofa

3 Apr

Skirwith

double orthopedic mattress

24 Mar

Crosby Ravensworth

4/6 bed base

24 Mar

Brough, cumbria

2 seater sofa

23 Mar

Warcop

2 x Single folding guest bed with mattress

16 Mar

Penrith

single mattress

15 Mar

Penrith

2 seater sofa

8 Mar
WANTED
Near Ivegill

Folding table

4 Jun

Penrith

3' wooden bunk beds

4 Jun

Kirkby Stephen

Chest of drawers, coffee table, nest of tables

2 Jun

Penrith

Living roomitems

22 May

Penrith

Kitchen Wall Cupboard

13 May

Ca11 8lf

Double bed

10 May

Penrith town centre

small armchair, beanbags

28 Apr

Penrith

chest of drawers & bedside tables

28 Apr

Garrigill

Bedroom furniture

25 Apr

Garrigill

2 single mattresses

25 Apr

Penrith

single bed

21 Apr

Penrith

Bar Stool

18 Apr

North Dykes nr Lazonby

Red Mahogany Veneer Dresser/display unit/sideboard

31 Mar

Glassonby

stool

29 Mar

Glassonby

small table

29 Mar

Or new

Small table

28 Mar

Penrith

King size oh double bed

14 Mar

Clifton

Bunk Beds

13 Mar
Garden
OFFER
Appleby

Compost bin

2 Jun

Shap/Bampton

rhubarb

1 Jun

Appleby

garden benches

31 May

Appleby

garden shredder

30 May

Penruddock

Outside Table

29 May

CA10 1BA

Semi-wild Raspberry Canes

28 May

Glenridding

X6 White plastic chairs with round table

27 May

Penrith

Concrete slabs

27 May

Shap/Bampton

rhubarb

25 May

CA10 1BA

Semi-wild Raspberry Canes, Buddleias etc

21 May

Greystoke

Cyclinder mower

20 May

Shap/Bampton

rhubarb

18 May

Great Strickland

Gazebo frame

14 May

CA10 1BA

Semi-wild Raspberry Canes, Buddleias etc

14 May

Penrith

plant pots

11 May

Dockray

Horse manure

9 May

Dockray

Mulch

9 May

CA10 1BA

Semi-wild Raspberry Canes, Buddleias etc

7 May

Dockray

Mulch

2 May

Dockray

Mulch

2 May

Dockray

Horse manure

2 May

Penrith

A round glass patio table

1 May

Penrith

Flymo lawnmower

24 Apr

Kirkby Thore

Hose pipe

20 Apr

Kirkoswald

A pile of various stone and concrete

14 Apr
WANTED
Greystoke/Penrith

80 litre dustbin

4 Jun

Penrith

Garden Table

31 May

Appleby

Fence posts

31 May

Kirkby Stephen

Wheelbarrow

30 May

Greystoke, Cumbria

Gazebo Frame

24 May

Penrith cumbria

garden

21 May

Penrith cumbria

garden items

21 May

Shap/Penrith

petrol lawnmower

21 May

penrith cumbria

petrol strimmer

21 May

Penrith

Outdoor rotary arier

20 May

Kirkoswold (Kirkoswold.

Wood arch for garden.

19 May

culgaith

Garden Storage Box

16 May

Penrith

Chicken wire/fencing

13 May

Penrith

flags

12 May

GLASSONBY

Pavers for a path in garden

8 May

hand trowel

8 May

Shap

greenhouse

3 May

Greystoke

Greenhouse glass panels

2 May

Greystoke, Cumbria

Gazebo Frame

23 Apr

Great salkeld

Rockery stones

19 Apr

Penrith

Chicken wire/fencing

18 Apr

Penrith

Concrete patio / paving flags

12 Apr

Kirkby Stephen

Garden Furniture

10 Apr

Near Orton

Scaffold boards or railway sleepers

6 Apr

Rosgill, Shap

Metal dustbin, bottomless!

30 Mar

Lazonby/penrith

Electric/petrol hand/chainsaw

29 Mar

Penrith

Greenhouse

29 Mar

Penrith

greenhouse glass

28 Mar

Penrith

Garden seat

23 Mar

Penrith

two 6ft posts wanted

20 Mar

Appleby

gadren shed

13 Mar

Greystoke

Used Dumpy Bags

11 Mar

Penrith

Chicken wire/fencing

11 Mar

Kirkby Thore

Metal bucket

10 Mar
Household
OFFER
Shap

Various Kitchen items

3 Jun

Brough

Le Parfait Terrine/Preserving Jars

2 Jun

Temple Sowerby

Jam jars

29 May

Skelton

Four glass wall lights

28 May

Penrith

Glass

25 May

Skelton

Four glass wall lights

20 May

Appleby-in-Westmorla

Green shade netting

17 May

Skelton

Four glass wall lights

13 May

Penrith

Double Duvet

13 May

Penrith

Glasses

12 May

Penrith

Energy efficient light bulbs

12 May

Penrith

Mirrors

12 May

Penrith

Energy Light Bulbs

12 May

Penrith

Towels

12 May

Near Low Hesket

Repose mattress topper

11 May

Alston

Henry vac bag

7 May

Alston

halogen lamp bulbs

7 May

Penrith

Mirrors

7 May

appleby

golden yellow stair carpet

6 May

Skelton near Penrith

IKEA metal lamp stand

2 May

Penrith

Old carpet for garage/allotment etc

1 May

Lamonby

Fridge trays/shelves

30 Apr

appleby

golden yellow stair carpet

29 Apr

appleby

stair carpet golden yellow

26 Apr

Appleby

Trailer light board/lantern/underlay

22 Apr

Appleby

Fennel

20 Apr

Warcop

Bread trays

20 Apr

Culgaith

Stair lift

31 Mar

Greystoke, Cumbria

Blind

16 Mar

Penrith

2 Tier Steamer Never Used

15 Mar

Greystoke, Cumbria

Blind

9 Mar
WANTED
Penrith

Curtain poles

27 May

Keswick

Log basket

27 May

Bampton

Dutson turbine head

17 May

Bampton

Dyson turbine head

17 May

Kirkby Thore

Very large stock pot

16 May

Penrith

plastic bags - strong, clean

11 May

Near Ivegill

Clock Mechanism

10 May

Greystoke

Bath board

10 May

Keswick

Log basket

29 Apr

Penrith

Light/thin rugs

29 Apr

Penrith

Lace/hessian material

26 Apr

Penrith

coffee table and rug

19 Apr

Kirkby Thore

Very large stock pot

18 Apr

Clifton

large cushions and beanbags

14 Apr

Penrith/Ullswater

Cage style fire guard

6 Apr

Penrith

Real Sheepskin coats or rug

6 Apr

Nr. Ivegill

Plastic Containers

4 Apr

Nr Ivegill

Colouring Matter

4 Apr

Nr Ivegill

Round Things!!

4 Apr

Nr Ivegill

Decorative accessories

4 Apr

Appleby

Bean bag

2 Apr

Temple Sowerby

Metal Tree Guard

23 Mar

Clifton

Storage boxes

11 Mar

Clifton

storage boxes

10 Mar
Leisure & Entertainment
OFFER
Glassonby/Penrith

Small Sony stereo

31 May

Penrith

Raleigh 5 speed road bicyle

29 May

Penruddock

Coleman Tent

29 May

Shap

Chinese characters picture

12 May

dufton appleby

BMX WHEELS

20 Apr

Kirkby Thore

Children's bike seat

20 Apr

dufton appleby

2 BMX WHEELS

18 Apr

dufton appleby

BMX WHEELS

13 Apr

dufton appleby

2 BMX WHEELS

11 Apr

Plumpton

One arm bandit

10 Apr

dufton appleby

BMX WHEELS

6 Apr

Kirkby Thore

nordic airwalker

30 Mar

Tirril

4x4 bike carrier

29 Mar

shap

camping gear

29 Mar

Orton

Avtex 12v TV/DVD player

28 Mar

Orton

Avtex 12v TV/DVD player

28 Mar

Orton

Avtex 12v TV/DVD player

28 Mar

Glenridding

Clifton Bricks

25 Mar

Penrith

Old style Panasonic 19in tv

23 Mar

Penrith

Old style Panasonic 19in tv with stand

23 Mar

Long Marton

National Trust Magazines

21 Mar

Near shap

National Geographic magazines

21 Mar

Glenridding

Clifton Bricks

18 Mar

Penrith

Old style Panasonic 19in tv

16 Mar

Greenholme

Small TV - not flat screen , not digital

15 Mar

Glenridding

Clifton Bricks

11 Mar

Penrith

Old style Panasonic 19in tv

9 Mar
WANTED
Appleby

Badminton Racquet

4 Jun

Penrith

old records

3 Jun

ca101tp (CA10 1TP

OO/HO Train Set / parts wanted

3 Jun

Penrith

Paperback fiction books

2 Jun

culgaith

Video Player

27 May

Tebay/orton

Wet Suits

25 May

Penrith

Paperback fiction books

25 May

Threlkeld

Projector for use in a youth club

24 May

Appleby

electric smart monitor

23 May

Appleby

Bike rack

18 May

tebay

Canoe

15 May

Orton

Bike rack for car

14 May

Penrith

Caravan wheel trim

13 May

Penrith

Camping equipment - fridge and toilet

10 May

Keswick

Fishing rod and reel

8 May

Kirkby Stephen

Utility tent please

5 May

Penrith

Paperback fiction books

3 May

Appleby

Fishing gear

1 May

Appleby

Wii fit game

1 May

penrith

top hat and bowler hat

1 May

Caldbeck

Polaroid style camera

29 Apr

Penrith

Paperback fiction books

27 Apr

Shap

Rear mounted bike rack

24 Apr

Nenthead

dvd player

22 Apr

Penrith

Summer House furniture

19 Apr

Brough

Adult trike

15 Apr

Penrith

Paperback fiction books

4 Apr

Nr. Ivegill

Threads, cords, strings, etc

4 Apr

Nr Ivegill

Flexible Craft materials

4 Apr

Temple Sowerby

Gym Weights

2 Apr

Penrith

Paperback fiction books

30 Mar

Troutbeck A66

Bottleneck for guitar

28 Mar

Appleby

Fishing gear

26 Mar

Or new

old

23 Mar

orton

Trailer chassis or unwanted caravans

22 Mar

Temple Sowerby

Drum Stool

7 Mar